On-booth demonstrations will show how energy efficient innovations in semiconductor technology are driving megatrends in key market sectors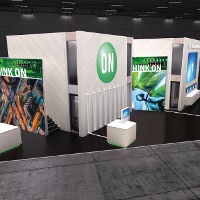 PHOENIX, Ariz. – 3 October, 2018 – ON Semiconductor (Nasdaq: ON), driving energy efficient innovations, will fill their 400-square meter booth at electronica with new products and enlightening demonstrations focused on solutions for the key and rapidly evolving markets of automotive, high performance power conversion (HPPC) and the Internet of Things (IoT). As part of its presence, ON Semiconductor will also be presenting detailed and forward looking technical papers at numerous forums throughout the week. This includes multiple presentations at the electronica Automotive Conference where the company will lead a discussion about how highly innovative and energy efficient semiconductor solutions will accelerate the path of vehicle manufacturers to their goal of autonomous driving.
In the automotive world, the company's semiconductor and sensing technologies will address megatrends within vehicle electrification, autonomous driving and lighting technology. ON Semiconductor's demos will showcase components and system solutions to enable innovation in these areas including SiC devices, IGBTs, MOSFETs and power modules for vehicle electrification, imaging, radar and LiDAR for Advanced Driver Assistance Systems (ADAS) and autonomous driving, and energy-efficient power management and control for front, rear and internal lighting applications.
Energy efficient semiconductor solutions are central to successful designs in Power Conversion and Motor Control (PCMC), supporting the ability of the world to move towards cleaner, more reliable and cost-effective products and infrastructure. ON Semiconductor offers the broadest portfolio of devices across low, medium and high power spectrums, including Wide Band Gap (WBG) materials, allowing engineers to generate, convert, store and deliver electric power. These products enable designers to work on the revolutionary changes required to make homes, businesses, factories and transportation systems both green and efficient.
Addressing energy infrastructure, ON Semiconductor will demonstrate highly reliable and efficient devices housed in innovative packaging concepts that support applications such as solar power, energy storage and EV charging. In addition, a range of MOSFETs, IGBTs, Power Integrated Modules (PIMs), and Intelligent Power Modules (IPMs) as well as fully integrated drivers for all motor types will offer a solution to most factory automation challenges. In cloud applications, ON Semiconductor's highest efficiency, compact footprint, power conversion systems solutions will show space and energy savings, which translates to significant cost reductions for server farm operators and other end users. New materials, such as SiC diodes, will continue to advance the energy revolution.
In the Internet of Things (IoT), battery life consistently ranks among the top concerns of designers, and plays a significant role in determining the total cost of ownership (TCO) of many IoT solutions. ON Semiconductor will showcase various IoT use cases targeted towards smart homes/buildings, smart cities, industrial automation and medical applications on node-to-cloud platforms featuring ultra-low power connectivity, sensing and power management solutions. The company's industry leading low power connectivity products can also be run off of harvested energy, enabling billions of battery free and maintenance free edge nodes. This theme will be further expanded upon during a presentation on enabling wireless and battery-less IoT.
Increasingly, adding intelligence at the edge is gaining traction due to privacy, latency and bandwidth concerns. ON Semiconductor's portfolio of highly energy efficient and feature rich audio DSPs enable embedding voice recognition on edge devices. An innovative image sensor family incorporating cutting edge technology that is ideally suited for demanding machine vision, robotics and embedded vision IoT applications will be on display. Edge AI use cases featuring the complementary audio and visual sensors will also be showcased at the booth.
For more information about ON Semiconductor at electronica, including multiple speaking engagements in multiple forums and panels, visit www.onsemi.com/electronica.