Contributes to longer operating time and smaller size in portables such as smart speakers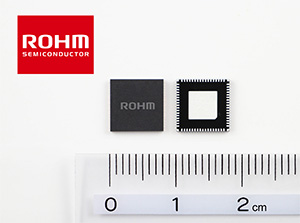 ROHM today announced the availability of a programmable system power management IC (PMIC) optimized for NXP® Semiconductors' i.MX 8M family of applications processors that excels in processing audio, video, and graphics in a wide range of applications, from home audio/video to industrial automation and mobile computing. BD71837MWV integrates all power rails required by i.MX 8M processors and system peripherals. In addition to a high-efficiency buck converter that provides a maximum conversion efficiency of 95%, most protection functions required by the system are included, making it possible to significantly reduce the development time, decrease size, and simplify system design
'ROHM continues to be a valued i.MX eco system partner. BD71837MWV is a welcome choice for i.MX 8M customers who seek single-chip power solution.' stated Mr. Leonardo Azevedo, NXP's i.MX Senior Director of Marketing at NXP Semiconductor.
In recent years the emergence of IoT has allowed electronic devices such as smart speakers to interact with users through voice commands for streaming audio/video. NXP's i.MX 8M family integrates up to 4 Arm® Cortex®-A53 and Cortex®-4 cores and offers flexible memory options along with a high-speed connectable user interface. Additional features include full 4K Ultra HD and HDR video functionality, high-fidelity audio playback, up to 20 audio channels, and support for DSD512 audio. This highly integrated design combines audio, video, and machine learning in a single platform to provide seamless connectivity and an intuitive experience.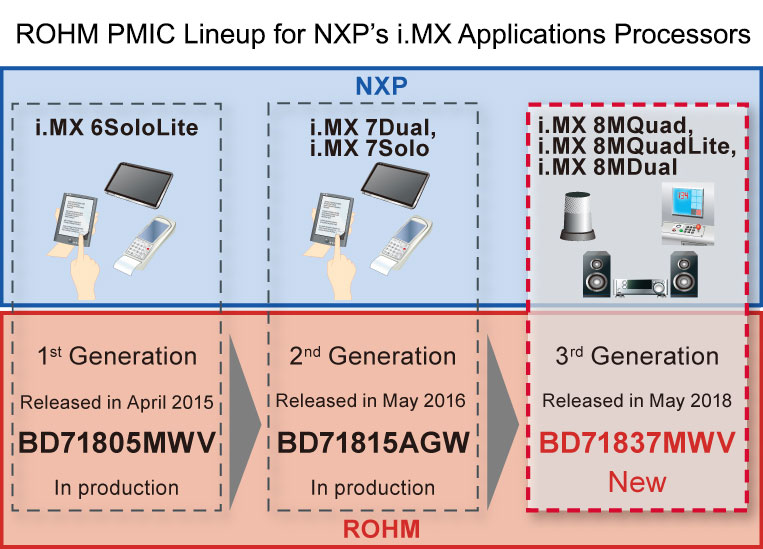 The BD71837MWV leverages ROHM's industry-leading analog power technology to achieve the ideal power supply system for driving i.MX 8M processors. Convenience, ease of use, and a rich user experience continue to drive the demand for more powerful SoC (System on Chip) solutions. However, high-performance applications processing graphics, video and audio often place conflicting demands on power supply and thermal design, calling for higher power in a smaller footprint along with high peak efficiency yet low standby power consumption (the latter driven by regulations as well as use cases such as always-on devices with voice interface).
The BD71837MWV was designed to address these demands while also achieving the lowest system bill of materials for power management. In addition, the compact form factor reduces the number of external components, decreasing PCB area by 45% (in the case of adopting a Type-3 one-sided PCB). Thanks to software programmability and one-time programmability (OTP), ROHM's PMIC can be easily adapted for a wide variety of system designs.
Availability: June (Samples), October (OEM quantities)
Key Features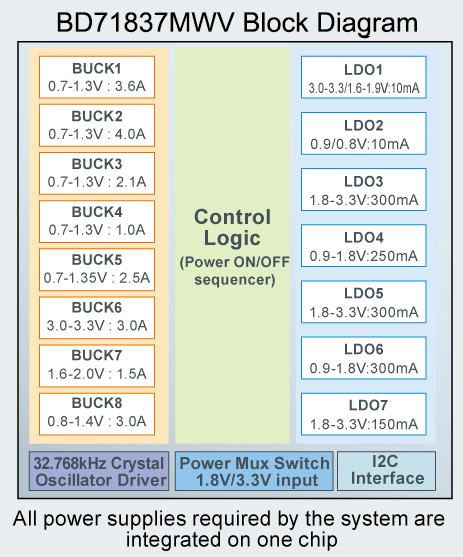 1.All-in-one power solution optimized for i.MX 8M processors
The power supply circuit of the BD71837MWV, designed specifically for the power supply system of the i.MX 8M processor family, integrates an 8 buck converters, 7 LDOs, and control logic that allows it to supply power not only to the processor, but the required DDR memory as well – all from a single chip. A 1.8V/3.3V power switch for SDXC cards is also built in, along with a 32.768kHz crystal oscillator buffer and multiple protection circuits such as output short-circuit, output over-voltage/current, and thermal shutdown. Buck conversion efficiency from 83 to 95% is achieved for 0.7V to 3.3V output, and the wide input voltage range from 2.7V to 5.5V supports a variety of power sources, from batteries to USB, making them ideal for i.MX 8M applications.
In addition, power sequencing, SoC-PMIC control signaling, and power state transitions are automatically handled by hardware control logic. The BD71837MWV supports all i.MX 8M low-power states such as SNVS and SUSPEND, consuming only 30µA in the SNVS state and 137µA at IDLE with all but two power rails on. And communication with the host processor is performed via I2C, enabling 100/400kHz and 1MHz operation.
2. Compact QFN package contributes to greater space savings and smaller BOM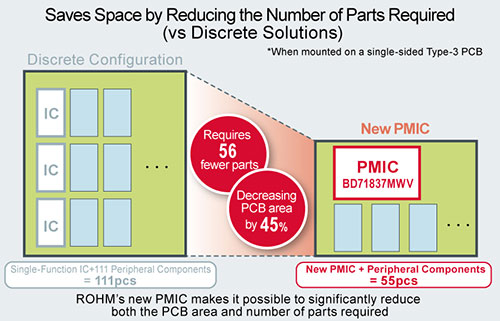 Besides integrating all necessary power supply functions in a compact 8mm x 8mm 68-pin QFN package, the pin layout is carefully designed to ensure easy connection to NXP's i.MX 8M processor and DDR memory, reducing design load considerably.
As a result, 56 fewer parts are needed compared with discrete solutions, reducing PCB area by up to 45%.
In addition, 2-sided mounting enable all power management functions with less than 400mm2board size.
3. Customizable based on system design
The BD71837MWV integrates a sequencer compatible with power modes supported by i.MX 8M processors (RUN, IDLE, SUSPEND, SNVS, OFF) to provide greater application design flexibility. Furthermore, the power mode transition conditions, protection function enable/disable, and ON/OFF control and voltage for each power supply can be customized through the I2C interface and OTP (One Time Programmable ROM) for the memory type and functions required by the system, making it possible to achieve optimum performance based on application needs.
4.Proven solution and comprehensive support ensure fast design-in with minimal risks
The BD71837MWV operation has been verified with the i.MX 8M SoC, shortening development time and enabling timely product release. ROHM has prepared guidelines, reference circuits, and layouts related to peripheral applications required for design. A PMIC evaluation board is also available that allows users to verify operation in advance when evaluating the power supply block or customizing the circuit to fit the design needs.